We offer 4 different dance programmes
Learning dance at the highest level demands exceptional discipline, precision and commitment
The IAB offers a dance pathway from Foundation through to Masters level.
Each dance programme is taught in classic conservatoire style, rigorous, intensive and creative. On each course, the technique classes are supported by theory and contextual study. Performance work enables the synthesis and practical demonstration of technical artistry, intellectual understanding and emotional connection with the work.
Courses are delivered by lecturers with a wealth of experience, both as performers and dance lecturers. Their focus is on helping you to develop your technical skills to a professional level, inspiring your creative confidence, and preparing you for a life in dance.
Take a closer look at the programmes that interest you, find out what you'll learn, how you'll be taught, and the opportunities your course will give you to launch a career in this exceptional field of performance.
Foundation, Bachelor and Master Dance degrees
Our BA (Hons) Dance programme prepares you for a career in contemporary dance, with all of the technical, academic and vocational skills needed to pursue a sustainable and satisfying career in dance.
Our BA (Hons) Commercial Dance is one of the only three-year degrees that will truly prepare you to become a professional commercial dancer. With a focus on all current dance styles, this degree will expose you to everything you need to be as employable as possible.
Our Foundation Dance course is directed to those who want to enter a degree in dance and are looking for a high-quality one-year intensive course in which they can develop their technique and skills with improvement, whilst also working on performance. Our training focuses on ballet, jazz, tap, contemporary and commercial dance.
Our Masters degree in Choreography is a perfect option for those wishing to pursue their love of choreography. This course is designed for both dance makers and experienced practitioners, with classes in creative design, production processes and evaluation methods.
Key Features of the Dance Programmes
Why study dance at the
Institute of the arts barcelona?

Conservatoire-style training
Who have performed around the globe
To open doors internationally
With students from over 50 different countries
Gain performance experience from the onset
What training do our dance courses offer?
Study a variety of dance techniques and styles
Learning dance at the highest level demands exceptional discipline, precision and commitment. We believe that when you match your own creativity and imagination to that dedication, it is among the most rewarding of the performing arts.
Contemporary
Dance Techniques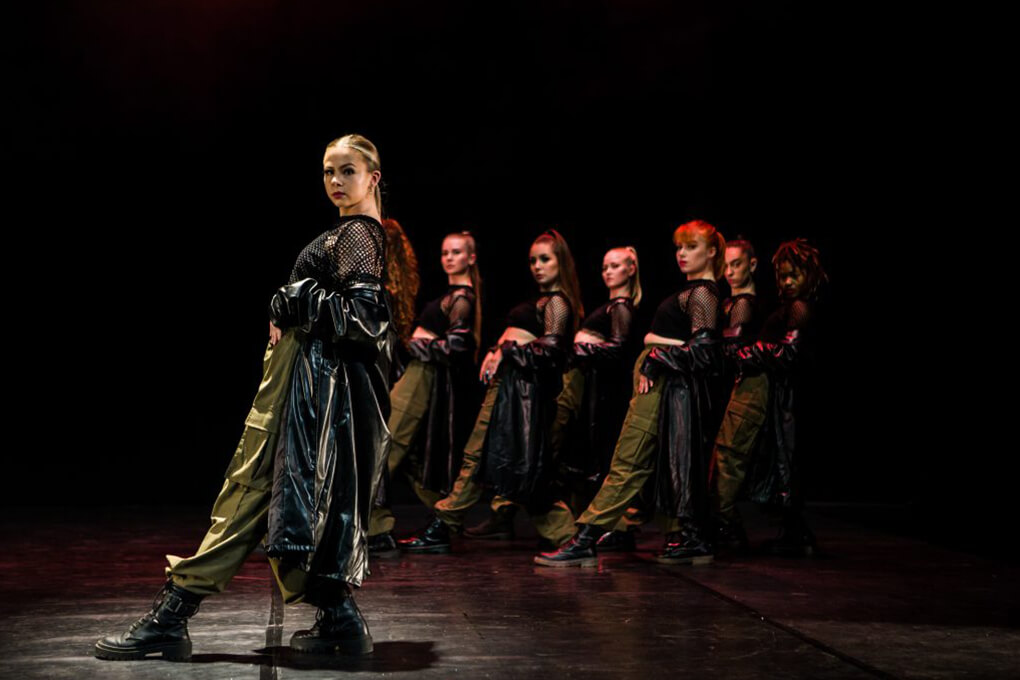 Want to find out more about our Dance Courses?
Join one of our upcoming admission events to attend our dance programme talks where you will get the chance to find out all about our dance courses from our staff and directly ask our students some questions.
Professional award certifications
Our BA (Hons) Dance, BA (Hons) Commercial Dance and Masters in Choreography are awarded by Liverpool John Moores University. While you study in Spain you get a certification from a UK university. If you attend our Foundation Dance course you will obtain a diploma from the Institute of the Arts Barcelona.
One of the key features of our programmes is the fact you will be living in Spain while studying dance. Our school is based near Barcelona (Sitges). By combining training, performances and cultural enrichment, our students get a truly unique experience—a study abroad opportunity like none other.
Dance Semester Study Abroad
We also offer you the option to come to study our dance programmes for one semester. Find out all about our Dance Semester Study Abroad programme.